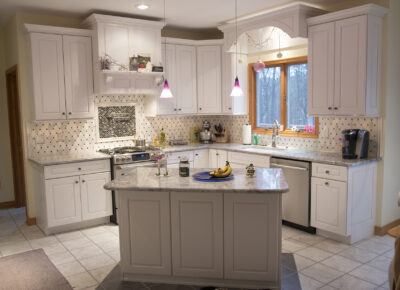 Interested in adding new life and beauty to your kitchen? Let KOL Kitchen & Bath be your choice for Cherry Hill kitchen remodeling contractors! We remake and rebuild kitchens throughout Camden County, and we can add beautiful new cabinets, countertops, floor tiles, and much more in your Cherry Hill home. For local contractors and builders, we offer quality products and materials, for stunning new kitchens that are made to last!
As a homeowner looking to revitalize a kitchen, you know that it's not just adding cabinets or countertops. You want to both maximize the space and create a new kitchen that is not just beautiful to look at but simpler to use, for many years to come. At KOL, our design staff can assist you in choosing the right theme and creating your dream kitchen…and we create dazzling and functional kitchen designs for new home and office building construction as well.
Our Kitchen Remodeling Services For Cherry Hill Residents
KOL Kitchen & Bath can build and install durable new features in your kitchen, including:
Cabinet Designs. Choose from a full variety of cabinet styles and sizes…come take a look at our Cherry Hill showroom to see them up close! We offer European and Classic cabinet designs, and you can choose from a wide selection of knobs and hardware that suits your taste. Did you know that in many kitchen remodels the cabinets can be as much as half of the homeowner's budget? Let our experts help you choose the perfect style and look for your new kitchen cabinet installation.
Floor Tile Installation. Let your new floor be part of the statement your new kitchen makes…choose from the top brands of tiles, including American Olean, Natural Stone, Onyx, Happy Floors, and many other quality brands! Your new floor tiles can be made from porcelain, marble, ceramic, granite, or other durable materials, and we even offer floor tiles made from recycled materials for minimal environmental impact…ask us about Greenworks™!
Countertop Additions. Our durable granite countertops are made by our brother company, KOL Granite. KOL Granite literally has hundreds of countertop designs and styles to choose from, and you can have the style and color of your choice installed in your kitchen. KOL Granite countertops are durable, versatile, and eye-catching, and they can be a key part of almost any kitchen remodeling project.
The pros at KOL Kitchen & Bath can add these elements and so much more to your Cherry Hill kitchen…feel free to give our virtual kitchen redesign tool a try, and have a look at different cabinets, countertops, floor designs, wall colors, appliances, and so much more for the kitchen of your dreams.
If you want that beautiful and functional new kitchen to be a reality, get started today! Contact the Cherry Hill kitchen remodeling contractors at KOL Kitchen & Bath today and request your FREE kitchen redesign consultation. We're looking forward to creating a kitchen you and your family will love!
Interested in case studies, remodeling ideas and more? Be sure to visit our Facebook page!