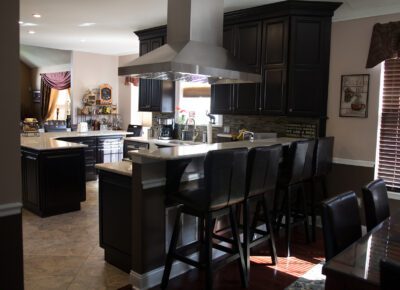 KOL Kitchen & Bath is your destination for your beautiful Gloucester County kitchen remodeling! Our team serves all of South Jersey with new kitchen renovations, including new floor tiles, countertop surfaces, cabinets and much more. We handle new installations for homeowners as well as contractors and builders who are looking for quality materials and designs. Our mission is to build amazing kitchens that are fully functional and built to last.
If you are a Gloucester County homeowner looking to remake your kitchen, we understand that you want more than just new cabinets and fixtures. You want your kitchen to make a statement, with optimal use of space and high level function. Our design team can make the most of your space and build your new kitchen to your desires…and we also work with new home builders and contractors to install the finest in new kitchen design.
Our Kitchen Remodeling Services in Gloucester County
We can renovate and renew multiple elements in your kitchen, including:
New Cabinets – We offer a full spectrum of kitchen cabinet styles and sizes, from European to Classic designs. In addition to our variety of cabinet designs, you can select from a full list of door handles and hardware in the style you prefer. In kitchen remodels, your cabinets can be as much as half of the budget…let KOL's design staff help you make the best choices for your home.
New Flooring Tiles – Create a whole new look for your kitchen floor with one of our full variety of styles and colors. We offer American Olean, Natural Stone, Onyx, Happy Floors, and many others. You can have your floor tiles constructed from ceramic, porcelain, glass, marble, or granite, and have it cut in mosaic, medallion, or one of several other styles. We also can install tiles that are made from recycled materials…ask us about our Greenworks™ floor tile design!
New Countertops – Add beauty and durability to your kitchen counter space with granite countertops made by our brother company, KOL Granite! KOL Granite offers literally hundreds of granite countertop designs for you to choose from, and their construction is beautiful, resilient, and versatile. KOL can provide a kitchen countertop suitable for any project.
KOL Kitchen & Bath can don all of these things and more to create the kitchen of your dreams. Want to get started today? Try our virtual kitchen redesign tool, and start choosing your cabinets, countertops, wall colors, floor design and much more!
When you've created a design you like and want to make it a reality, call on the Gloucester County kitchen remodeling experts at KOL. We can't wait to bring you a kitchen that you and your guests will love…request your FREE kitchen design consultation today!
Interested in seeing more case studies and finding new ideas for your kitchen remodel? Visit our Facebook page today!