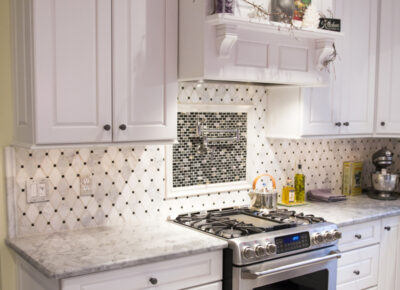 KOL Kitchen & Bath of Cherry Hill is your easy answer for Collingswood kitchen remodeling contractors! Our showroom is just minutes away, and we offer beautifully functional new kitchen and bathroom designs for Collingswood homeowners and builders. Our professionals design and install stunning, high quality cabinets, countertops, floor tiles and much more…and we can give your kitchen a great new look that lasts for many years!
If you've decided to remake your kitchen, that's great…but have you given any thought to how the renovated space will look and function? Of course you want the best materials you can afford…but which manufacturers do you choose? What colors will work best for your renovation goals? What new features would you love to have?
KOL Kitchen & Bath can help you answer those questions, and provide you with the guidance you need for the whole project. You can choose from our full variety of cabinet options, top quality floor tiles, and sturdy and beautiful countertops made by our brother company KOL Granite. With so many choices and our experience to help guide you, we make it easy to build the kitchen of your dreams.
Want to see some of our cabinetry and other products in person? It's a short trip from Collingswood to our showroom, where you can see your new components for yourself. Speak with one of our representatives and find out more about specials, ask us about related products, and much more.
Have a look here at some samples of our finished work, and see some great ideas for your newly designed kitchen. Our customers are ecstatic about our finished work, their new renovations, and their classic beauty. We know you will be too!
Contact Our Collingswood Area Kitchen Remodeling Contractors Today.
Ready to get started? Request a completely free kitchen design consultation today – and take the first step towards the kitchen of your dreams. KOL Kitchen & Bath is the answer to your search for Collingswood kitchen remodeling contractors – we're looking forward to turning your kitchen into a place you and your guests will love!
Interested in seeing more kitchen renovation ideas and seeing more customer reviews? Visit our Facebook page today!