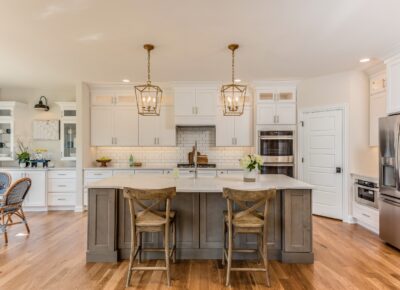 Have you had enough of your aging and drab-looking kitchen? Is it time that you made the most of your kitchen space and improved its visual appeal? Get started today beautifying your kitchen…let KOL Kitchen & Bath be your answer for Gloucester Township kitchen remodeling contractors. Our design team and crew of kitchen pros will work with you to build the kitchen of your dreams!
KOL Kitchen & Bath does more than build a new kitchen for your home by adding cabinets, countertops and floor tiles. We put in the effort to combine all of the elements of a kitchen remodel into one unifying design…colors and styles that complement each other, with fixtures that maximize the function of your kitchen space. We'll help you create a design that works perfectly for your Gloucester Township home, and turns your kitchen into a favorite destination.
If you like, you can start with a trip to our conveniently located showroom, where you can see our beautiful cabinets and accessories for yourself. When you're looking for countertops to go with your new cabinetry and flooring, have a look at the selection from our brother company, KOL Granite…and choose countertops, vanities, sinks, and more, in colors and styles that suit your taste.
Or you can get started in the comfort of your home, by requesting an absolutely free design consultation. We'll send one of our representatives to meet with you, measure your kitchen space, and show you a full selection of products and designs that will work perfectly. Whether you know what you're looking for or need ideas, we can meet you wherever you are…and we'll show you everything that is possible with your kitchen remodel.
Want to see more and get new ideas? Have a look at some finished projects here, and see the difference we can make in your home!
Get Started With Your Gloucester Township Kitchen Remodeling Experts!
Contact us today and get started creating a new kitchen that you will love being in every day. Call us at 856-857-1430, visit our showroom, or request your online consultation here. We're the answer to your search for Gloucester Township kitchen remodeling contractors – let us make your beautiful new kitchen a reality!
Want to see more kitchen upgrades, customer reviews, and more? Visit our Facebook page!