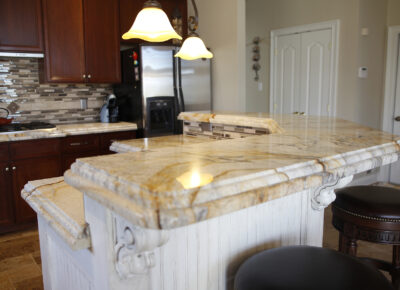 At KOL Kitchen & Bath, we're the easy answer to your search for Marlton kitchen remodeling contractors. Our showroom is based near you in Cherry Hill, and we provide stunning and wonderfully functional new kitchens to homeowners and builders throughout Camden County. We design, build, and install top quality cabinets, countertops, floor tiles, and more in your Marlton home, for a new kitchen that looks great and is built to last!
You may have decided that you want a new kitchen – but you may not be sure of exactly how you want your kitchen to look or function; maybe you're not aware of who manufactures the best materials, which colors work best in your home, or what features can be added.
At KOL Kitchen & Bath, we work with you and provide the guidance you need throughout the project…we help you choose from a wide array of cabinet storage options, high quality and beautiful floor tiles, and first class granite countertops made from our brother company, KOL Granite. Our wide variety of choices make it easy for you to create the kitchen of your dreams.
Best of all, you can visit our nearby Cherry Hill showroom, and see cabinets and other components of your new kitchen for yourselves. In our showroom, you can request more information about product specials, kitchen cabinets and related products, ask one of our representatives about cabinet tile products and more.
Have a look at our portfolio here and see some of our finished work – and get some ideas for what you can have done in your Marlton kitchen. Our customers love the improved function, unified design, and classic beauty of a KOL kitchen, and you will too.
Get Started With Your Marlton Kitchen Remodeling Contractors Today.
Click here today to request your absolutely free design consultation…and get started on re-creating your kitchen into a place you and your guests will love! Let KOL Kitchen & Bath be your destination for Marlton kitchen remodeling contractors – we'll craft your new kitchen completely to your desires, and we know you'll love the results!
Want to see more case studies and get more ideas for your new kitchen? Be sure to visit our Facebook page today!