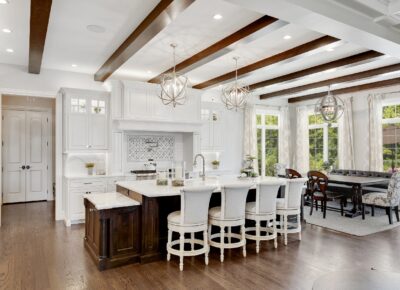 Tired of looking at your drab, aging kitchen? Do you want to give one of the most important rooms in your home a completely new and better look? Leave the project to the proven professionals at KOL Kitchen & Bath…we're the answer to your search for first class Somerdale kitchen remodeling contractors! We can work with you to build the kitchen of your dreams, and turn it into a place you'll love to use.
A KOL Kitchen & Bath kitchen upgrade is about more than simply replacing cabinets and countertops. We believe in assembling all of the pieces into one unifying, eye-catching design…with colors and styles that complement each other, and fixtures and appliances that make the absolute most of your kitchen space. Our design team works with you from beginning to end on making your kitchen into a beautiful, functional dream space.
Our Cherry Hill showroom is just minutes away from you, and you can come see our beautiful cabinetry and accessories for yourself. You can also visit the website of our brother company, KOL Granite, and see a selection of countertops, vanities, sinks and more, all in a variety of styles and sizes to go along with your kitchen upgrade vision.
You can also take the first step towards your dream kitchen from the comfort of your home…just click here to request your free design consultation! One of our representatives will be happy to meet with you, and can offer all sorts of ideas for your kitchen. Whether you know exactly what you're looking for, or you don't have a clue where to start, we can meet you wherever you are, and show you everything that's possible with your kitchen space.
If you'd like some ideas and to see our finished work, have a look at our portfolio page…and see the amazing difference we can make for you too.
Contact Your Somerdale Kitchen Remodeling Experts Today!
Take the first step today to a kitchen that you'll love…reach out to the Somerdale kitchen remodeling contractors at KOL Kitchen & Bath! Request your free design consult here, visit our beautiful showroom, or call us at 856-857-1430. We're looking forward to revitalizing your kitchen and making your dream space a reality!
Interested in reading customer reviews and seeing more finished projects? Follow our Facebook page today!